Connecticut Hayrides & Haunted Hay Rides
As a child you may remember the good memories of Hay Rides across the field, but if you're looking to add a bit more Halloween adventure to the experience, hop on a Haunted Hay Ride in Connecticut! Big scares are just around the corners or at the next bump in the road as you venture deep into the fields of darkness. You won't know when the next terrifying surprise will hit you, so hold on to your seat (or hay stack)!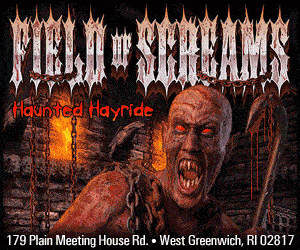 Located in West Greenwich
Open today!
Doom and gloom begin in the path of fright from the sunset to darkness which the twilight prevails. Unseen voices whisper from the dead trees, a chill is in the air, an eerie howl can be heard.... Strange sounds are everywhere. Ghouls, zombies and disembodied spirits are just waiting for you to Read More
Located in Shelton
Open today!
Legends of Fear is the largest Haunted Farm Attraction in Connecticut. Join us this season as we celebrate our 20 YEAR ANNIVERSARY! Our attractions have over 150 actors to make you scream while you experience almost 90 minutes of absolute terror. Melon Head Revenge Trail: Over half a mile walking Read More