Celeb Family Halloween Costumes That Are Just Too Cute!
Home » Blog » Halloween's Hottest Trends, Little Ghost & Ghouls Corner , Scary-Good DIY Ideas, Halloween Headlines
November 7, 2017 By Cait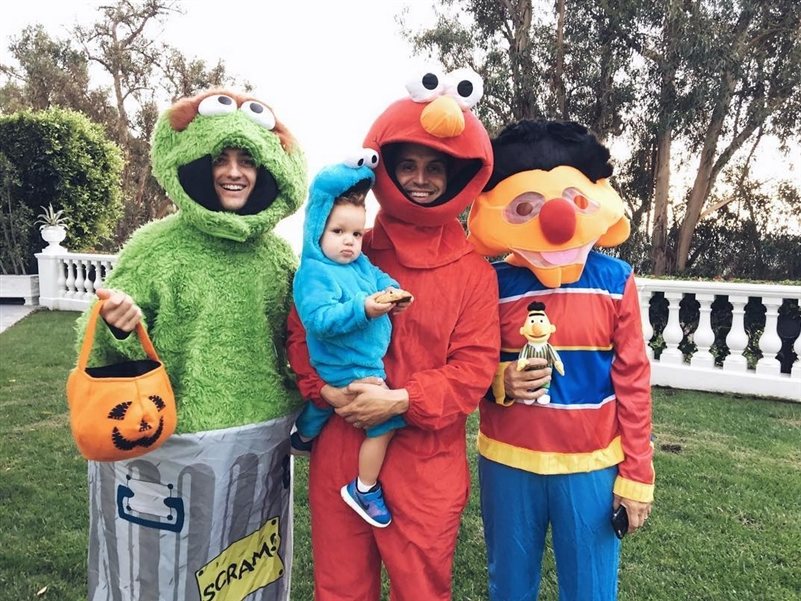 LA Galaxy Soccer Star Robbie Rogers & His Family Dressed Up at the Sesame Street Gang!
Photo by:
Robbie Rogers, via Instagram.
On of the fun ways to keep the Halloween spirit thriving throughout the month of November is to check out all of the amazing Halloween costumes being posted online - including the countless celebs that have gone all out for the holiday! This year, there have been a ton of celebrities getting their whole family in on the fun, with full on adorable group costumes for them and their little ones.
Here are some of our favorite Celebrity Family Halloween Costumes for 2017:
Gold Medal Olympian Ryan Locthe & His Clan as the Aladdin Crew - With Ryan Locthe as Aladdin, his wife as Jasmine, and their adorable son Caiden as the iconic (and cute!) Abu, this family look was definitely a win all around!
Super Model Jaime King & Crew as Super Heroes - Super Model Jamie King went all out this Halloween as a clan of masked heroes with her family, who all dressed up as super heroes this holiday!
Dane DeHaan, Anna Wood & Son as Narwhals - This is definitely one of the more unique celeb family get ups we've seen this year! The DeHaan-Wood Crew went out as a pack of absolutely adorable narhwals this Halloween! Bonus points for staying toasty!
Eric Decker (of the Tennessee Titans) & Daughter as Moana & Maui - Eric Decker was decked out as Maui from Disney's smash hit Moana, while his absolutely adorable daughter was dressed up as Moana herself - what an adorable duo!
Edy Ganem (of Devious Maids fame) & Crew as Super Heroes - Edy Ganem and her family wet as iconic Marvel superheroes this year, and let's just say, little Spiderman might be the cutest of the bunch!
LA Soccer Star Robbie Rogers, fiance Greg Berlanti, and son Caleb as The Sesame Street Gang - Robbie, Greg and their son Caleb dressed up as the iconic gang from Sesame Street - Oscar the Grouch, Elmo, Cookie Monster, and they were also accompanied by a friend dressed as Bert (carrying a little Ernie doll, for good measure). This group had an awesome look this Halloween!
What Was Your Favorite Celebrity Family Halloween Get Up This Halloween?
Let Us Know in the Comments Below!