Five Fun Ways to Pepper In Some Halloween Fun Into Your Festive Christmas Decor This Year
Home » Blog » Halloween's Hottest Trends, Little Ghost & Ghouls Corner , Scary-Good DIY Ideas, Halloween Headlines
December 1, 2017 By Cait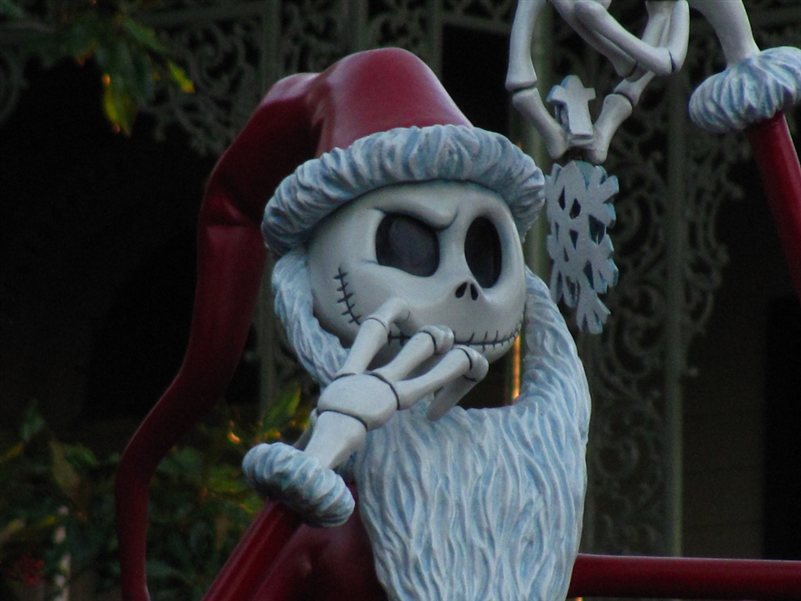 If You're Like Jack and Want to Celebrate Halloween on Christmas, We've Got Some Fun Tips for You!
Photo by:
Loren Javier, via Flickr. (CC BY-ND 2.0)
With Christmas just 25 days away, it's time to kick it into high gear when it comes to decorating! If you're a Halloween fanatic and you'd like to carry some of your Halloween Cheer into your Holiday Decor, then you're in luck - there's plenty of fun, festive ways to have a Halloween on Christmas crossover that will rival even the best of Christmas displays.
Whether you're new to the idea of Decking the Halls for Halloween, or you've been gearing up for your Halloween on Christmas display for a while now, these fun ideas will help you to bring together the two holidays in a festive and fun way that you're sure to love!
Give Your Halloween Decor Some Christmas Flair

- If you've got spooky bats, black cats, and witches on broomsticks flying around the house, well, why not dress them up for Christmas instead of taking 'em down? To do this, you just need some red felt, and some white felt, and a few white pom poms, if you're feeling extra ambitious. Basically, you'll be making Santa Hats for your statuettes, wall hangings, and other Halloween friends. Feeling extra festive? Pick up a bit of green felt too, and make some of the hats elf hats!



Start Adding Halloween Ornaments To Your Christmas Tree

- There's a few ways to go about procuring Halloween ornaments:



You can buy them during the Halloween Season - with Halloween Trees becoming "their own thing" in recent years, the options have become more widely available at big box retailers.


You can buy

Nightmare Before Christmas

ornaments right from Disney between the Halloween Season, and Christmas - they seem to have a pretty good selection (that changes up every year!) throughout the Fall and well into the Winter.


If you're crafty, you can DIY some cool Halloween Ornaments - this can mean painting up some glass ornaments with acrylic paint yourself, or getting more ambitious, and checking out some of the cool DIY Halloween Ornament ideas on Pinterest (no really - there are a

ton

of awesome Halloween ornament ideas on there that range from simple to more serious).


If you like the look of the DIY Ornaments, but you're not so handy when it comes to crafts, head over to Etsy - there's a ton of cool handmade

Nightmare Before Christmas

ornaments, decor, and merch, as well as other Halloween tree ornaments. If you're into retro Halloween decor, then you

definitely

want to check out Etsy, which has a ton of retro designs.



Start Expanding Your

Nightmare Before Christmas

Decor Collection Into a Full Blown Obsession! - Ok, so if you're a lover of both Halloween and Christmas, chances are you've got at least one or two

Nightmare Before Christmas

ornaments or knick-knacks around the house. Why not turn your passion for the holidays into a collection? Each year, Disney releases new

Nightmare Before Christmas

figurines and ornaments, so this is a perfect way to start on your way to a full blow Halloween on Christmas crossover.



Determine Which Halloween Decorations Can Be Gussied Up for Christmas

- So, if you're a Halloween fanatic, you probably have a good amount of holiday decor, right? Well, if you're going for the whole "Halloween on Christmas" Thing, then there are plenty of ways you can make your Halloween decor a bit more festive for Christmas! Can your spooky bats be wearing witch hats? Can that Frankenstein statue be handed a Christmas ornament to hold? The possibilities are endless - you just need to be creative with it!
Do You Love Having Halloween on Christmas? How Do You Tie the Two Together?
Share Your Ideas in the Comments Below!