Halloween Child Bride Costume Controversy Has Whoopi Goldberg Upset
Home » Blog » Halloween Headlines
October 25, 2019 By Wendy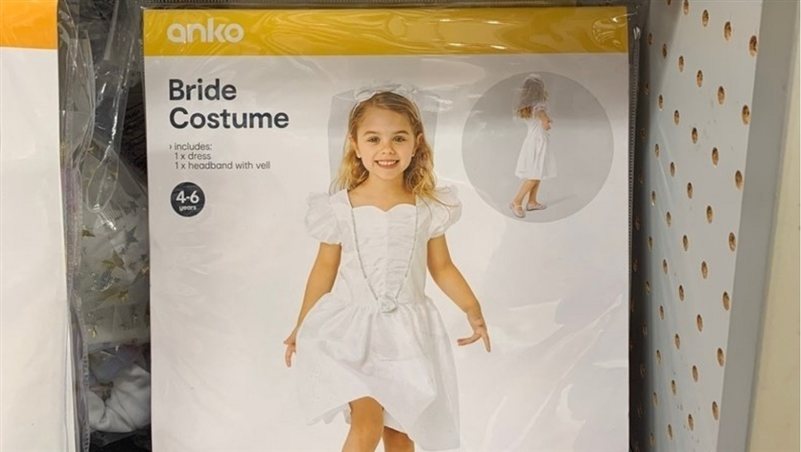 Child Bride Halloween Costume sold at Kmart
Photo by:
Change.org
"It's a Halloween costume! What the hell?" is Whoopi Golderg's response on "The View" where she's a co-host of the show. The child "Bride" wedding gown Halloween costume is labelled for ages 4-6 years old, and it's recently been in the news as Kmart made the decision to pull the costume from its stores.
The child "bride" costume was sold in Kmart stores in Australia, and it included a white bride's dress, headband, and a veil.
Controversy arose over the costume as some have said it is insensitive to the matter of youth marriages. Millions of girls have been forced into youth marriage, according to a petition created on Change.com to have the costume removed from Kmart's shelves.
The petition read: "Child marriage means child abuse and torture in its worst forms - paedophilia, child rape, child slavery, child sex trafficking. Kmart -Take this child bride costume off your shelves."
See the back and forth views between Whoopi and her co-hosts in the video below:
UPDATE: 10/29/2019 - Now following the removal of the costume from shelves, a counter-petition has been launched on Change.org to get it back on shelves. So far it has garnered more than 4,500 signatures (at the time of writing). The counter-petition argues, "Let kids be kids." It further goes on saying: "by taking this off the shelves you have taken away that dream to children like my own who wish to dress up as a bride or wear it/hack it for a Halloween." This counter-petition also suggests removing the word "bride" from the package/label.
What do you think? Is the "Child Bride" costume a bad idea and worth pulling from the store shelves?