Harrybrooke Park's 4th Annual Haunted Trail Taking Place this October
Home » Blog » Connecticut's Best Weekend Events, CTHauntedHouses.com News and Updates, Connecticut Haunt News
September 27, 2017 By Haunt News & Press Releases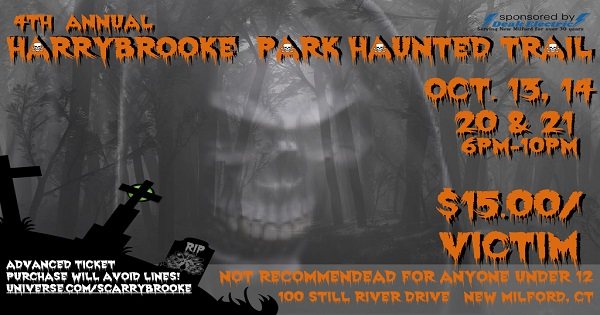 New Milford, CT - On October 13, 14, 20 & 21, Harrybrooke Park in New Milford will host our fourth annual "Haunted Trail" fundraising event from 6:00 p.m. to 10:00 p.m. each night for $15/person entry fee.
To create an even larger community event for 2017, Harrybrooke is partnering with The New Milford Lions Club, Northville Fire Department, Knights of Columbus, The Children's Center and The United Methodist Church to make this event even bigger and even more beneficial to the community.
Tickets are available online this year at Universe.com/scarrybrooke for $15/person. The four night event opens at 6:00 p.m. and ends by 10 p.m. To make it even easier this year, tickets may be purchased in advance at Universe.com/Scarrybrooke. This pre-sale also allows you to bypass the regular admissions line, thereby speeding up the process.
Billy "Mo" Buckbee, Harrybrooke Park Executive Director, issued an important recommendation for attendees, "Beyond all the event promotion, it is highly recommended that people heed the following warnings. This event is not recommended for those with a weak heart, inability to walk a long distance (almost the entire park), or for those who cannot be near a strobe light. This event is also strongly not recommended for children under 12 years of age as it can be truly terrifying in parts."
"The Haunted Trail," states Buckbee, "has been good and very scary in the past, but each organization has stepped up their game this year. It will be really very scary and take you into new areas of the park. Parents should truly think twice before bringing young children here. It may cause nightmares in adults even. It goes beyond scary and does creepy better than any Halloween event I've ever seen!"
Harrybrooke Park provides a safe place for families and individuals alike to walk, run, ride a bike or simply sit and take in all that nature has to offer. The mission of the privately-funded park is to serve the greater New Milford area communities at no cost to the Town of New Milford or its taxpayers. Former private owners of the property, The Harden family, left the gift of Harrybrooke Park for the benefit, recreation and pleasure of the community. Combined with tremendous community support of events at the park and volunteer contributions, Harrybrooke is able to maintain the peaceful setting that serves so many all year long.
Stay up to date with event news and possible cancellations on our Facebook (@Harrybrooke Park) and Twitter (@HarrybrookeP) pages for up to the minute information.
Harrybrooke Park and Harden House Museum is a 501(c)3 non-profit organization and does not receive funding from the town, state or federal governments. For more information about volunteering, please contact Billy Buckbee, Executive Director at (860)799-6520 or email at
Harrybrookepark65@gmail.com
.