Celebrity Haunted House Fundraiser Coming to Creeperum this October!
Home » Blog » Connecticut's Best Weekend Events, CTHauntedHouses.com News and Updates, Connecticut Haunt News
September 11, 2017 By Chelsea T.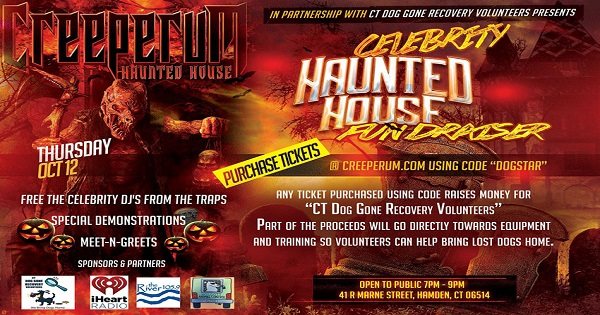 Creeperum Haunted House of Hamden will be joining forces with "CT Dog Gone Recovery Volunteers" to present the Celebrity Haunted House Fundraiser on Thursday, October 12th. The event will be open to the public from 7-9 PM and will feature special demonstrations, meet and greets, and music.
Any ticket purchased using the code DOGSTAR will raise money for "CT Dog Gone Recovery Service Volunteers" and a portion of the proceeds will go directly toward equipment and training in order for volunteers to help bring lost dogs home.
The fundraiser will take place at Creeperum, located at 41 R Marne Street in Hamden, in the back of Monkey Joe's. Save time and purchase your tickets online - and don't forget to use the code DOGSTAR upon checkout!
Click here to purchase your tickets today!