It's a Die for Date Night at Fright Haven on Valentine's Day Weekend
Home » Blog » Connecticut's Best Weekend Events, Connecticut Haunts: An In Depth Look, Connecticut Haunt News
January 21, 2018 By Wendy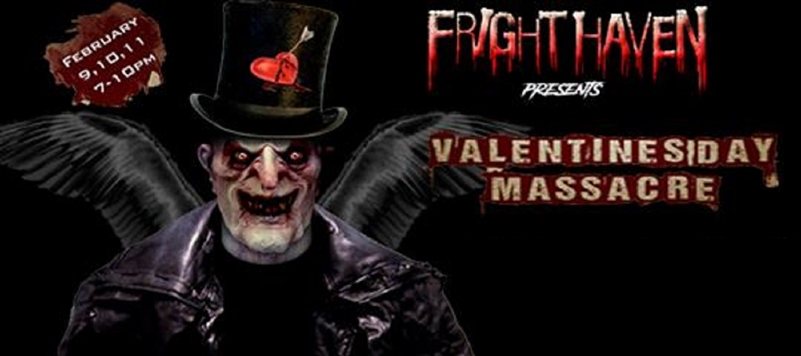 Valentine's Day Massacre at Fright Haven.
Photo by:
Fright Haven.
What happens when cupid has had enough with love and matchmaking? Find out at Fright Haven for its "Valentine's Day Massacre" event! The haunted house is back with all new scares that are even more heart pounding when love and heartbreak go extreme. It's going to be a date night to die for!
"Valentine's Day Massacre" at Fright Haven only runs for one weekend. Purchase your tickets for Friday, February 9th, Saturday, February 10th, or Sunday, February 11th, from 7PM – 10PM. General admission is $25 for The Loner (1 ticket), $45 for The Awkward Couple (2 tickets), $65 for The Third Wheel (3 tickets), and $80 for The Deadly Double Date (4 tickets). VIP tickets start at $50.