Post-Season Halloween Decor & Treats You'll Want to Pick Up on Clearance This Week!
Home » Blog » Connecticut's Local Halloween Fun Guide, Halloween's Hottest Trends, Little Ghost & Ghouls Corner , Scary-Good DIY Ideas, Connecticut Haunt News, Halloween Headlines
November 2, 2017 By Cait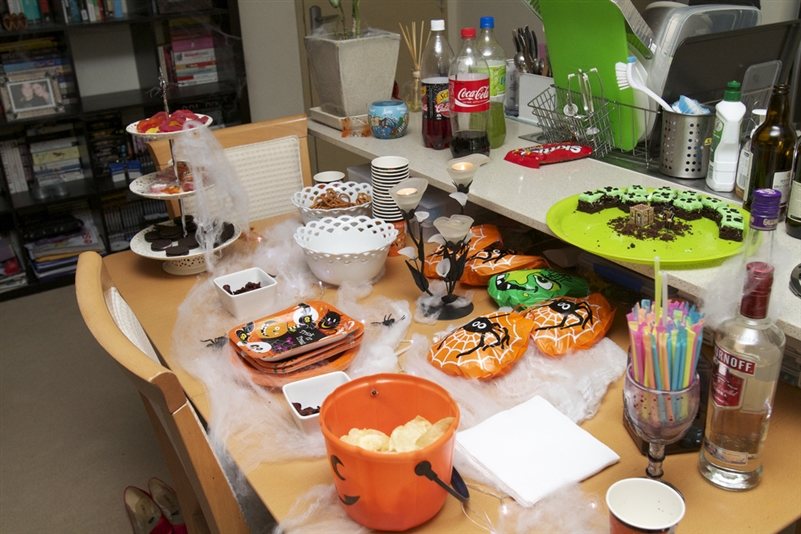 Party Supplies, Costumes, Decor, and More - There's Tons of Halloween Must-Haves on Clearance This November!
Photo by:
Nikita Kashner, via Flickr.
Halloween has come and gone, but if you're a true Halloween enthusiast, then you're probably just as excited about the first week of November as you are the holiday itself. Why? Because now's the time to stock up on Halloween decor, costumes, candy, and other great fun on clearance, and who doesn't love a good sale!
For those uninitiated with the post-Halloween ritual of buying everything you'll need for next year (except for candy) the week after Halloween, once retailers are slashing prices, let me tell you - it can be a ton of fun. If you love Halloween decor, or you're looking to score some new lawn ornaments at a sweet discount, then this is your week - there's going to be tons of sales at major retailers as they blow out Halloween to make room for Christmas, and unlike Christmas cheer, which can linger up through Valentine's Day at big box stores, retailers are itching to get rid of all things Halloween so they can roll out their Christmas displays ASAP, meaning they start heavily discounting Halloween merch immediately after the holiday.
Here are our top picks for Halloween items to snag on clearance this November:
Lawn Ornaments & Yard Decor - If you're a lover of Halloween, and you like to let your freak flag fly, then you probably are into Halloween lawn decor, and this is the perfect time of year to score new pieces for your collection at deep discounts. From inflatable family-friendly decorations, to spooky skeleton statues, cobwebs, signage, and other cute lawn ornaments, there's going to be a ton of cool yard decor on clearance this week at major retailers such as Target, WalMart, and other big box retailers. We'd recommend trying to get to stores quickly if you're interested in outdoor Halloween decor - these tend to be some of the most popular Halloween clearance items, since they tend to be a bit pricier than the other items that are on sale.


Costume & Make Up Basics - There's sure to be a ton of costumes on clearance, but we're more focused on the basics - things you can use to whip up last minute costumes in the future, and cute add-ons that will highlight a variety of future Halloween looks - witch hats, clip on tails, face paints (check the expiration dates!), crowns, capes, sashes, and other "small" Halloween Costume items that not only can help you put together a last minute costume in a pinch in the future, but they just could be the perfect inspiration for your 2018 Halloween look.


Cute Candy Dishes & Indoor Decor - There's going to be a ton of indoor decor at big box retailers over the next couple of weeks - candle holders, wreathes, hanging decorations, ceramic statues, and all sorts of indoor decor! A lot of the "Leftover Halloween Decor" is actually really "Fall Decor" - pumpkins, Fall leaves, and festive things you can put up for Thanksgiving & the remainder of the Fall Season. A win-win!


Halloween Candy - While you can't hold onto Halloween Candy for next year, you can indulge in some of your favorites while they're on clearance this month! Alternatively, if you're planning on participating in "Operation Gratitude", which sends Halloween candy to the troops (little ones typically donate a portion of their Halloween treats to send), you might want to pick up an extra bag or two to send over to our heroes overseas while the candy is half off or more!


Halloween Party Supplies - Big on Halloween Parties? Now's the time to stock up on party supplies - Halloween-themed napkins, plates, cups, decorations, table clothes, centerpieces, goodie bags, and pretty much everything imaginable that you may need to throw an epic Halloween Bash next year - it's all on clearance now! If you throw Halloween parties regularly, or frankly, if you're in need of some disposable plates & napkins, and don't care about the theme, now is the time to swoop in and save some money - the Halloween-themed party supplies!


Halloween Baking & Cooking Supplies - Cookie cutters, cake molds, cupcake holders, and more - it's all on clearance! There's a ton of non-perishable cooking-related items that are going to be in the Halloween Clearance Section, and if you're an avid baker who likes to whip up Halloween treats, you'll definitely want to stock up on these supplies while they're at their cheapest!
What Halloween Swag Will You Be Stocking Up on This November? Let Us Know in the Comments Below!